Gorka Kids Uniform Suit
Price: €

39.99

Quantity:
Size:

Description
Gorka Uniform BDU Special Forces (Spetsnaz) Suit Costume - Children Kids Size The Gorka costume is universal, suitable for both boys and girls. Demi-season militarized mountain suit.
Made of a dense tent cotton-cloth fabric. As a finishing and strengthening of critical for wear and blotting zones raincoat mixed fabric in used. Jacket and trousers of a loose cut, which allows you to puff additional layers of clothing.
For a better fit and to avoid sailing in the wind, the suit has a system of ties on the basis of rubber-fabric braid on the sides of the jacket, on the sleeves, under the knees and at the bottom of the trousers.
The combination of lining with the main fabric of khaki color, provides the partitioning of the human silhouette at remote distances. Suit is designed to protect against changes in temperature and strong winds in mountainous terrain. Tent fabric (100% cotton, density 270 g / m²) with water-resistant processing, reinforcing fabric (65% polyester, 35% cotton, density 210 g / m²); This is a good quality suit made by a small Russian private company.
Reviews
Unfortunately there are no reviews yet, you can be the first.
Related products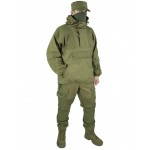 SSO Gorka S Uniform Suit

€ 84.99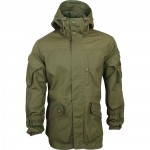 Gorka 3 Jacket Splav

€ 89.00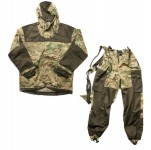 Gorka 3 Suit Multicam

€ 64.99