KZS Lightweight Suit
Price: €

34.99

Quantity:
Size:

Color version:

KZS Universal helmet cover:

Description
Older KLMK version - KZS camo suit. Genuine Soviet Army uniform camouflage suit. KZS (Meshy protective suit in Russian) is made from flame retardant mesh fabric with a camouflage color and designed to increase the level of protection from thermal damage by wearing it over uniforms. In case of explosion, the suit will smoke but will not fire. Can also be used as a camouflage uniform. It has Beryozka type camo pattern. Due to the antiglare burlap fabric, kzs is almost perfect means of camouflage.
Better may be only Ghillie suits, but their comparative cost is much more than the KZS. It is great for hot weather. Weight of the suit is very small (700 g) and mesh fabric is easily ventilated by wind in hot weather. In addition it provides good protection against mosquitoes. Hood of the jacket jacket is increased in size and can be put on in combat situation over headgear, steel helmets, all types of gas masks and, if necessary, to cover face - so, this way the max camo effect is reached in a combat position. The enemy has no way to catch human traits in vegetation, because the face is one of the main components of associative detection. At the same time, you can see enemy through a fine mesh structure fabric hood. When the hood is not needed it can be tightened around neck usning band isnide. Sleeves can completely cover hands and protect them from direct explosion exposure. Straight cut pants fit over boots. Pants have elastic cord in waist and calves. Aslo there are slots for use of pockets of the pants under the Kzs.
Made in 1980-1990. Two sizes are available: Size 1. will fit up to 44 inch chest (up to size 54 European). 160-170cm height. Size 2. will fit up to 44 inch chest (up to size 54 European). 170-180cm height. The size is critical only for pants, as the jacket has a large reserve on sleeves and length. The suit is treated with special chemicals for its fire protective properties. If you plan to wear it often it is recommended to wash it (delicately, with hands, in warm / cool water) to avoid any skin irritation because of the chemicals. 2 versions are available: regular and light green for different environment.
Reviews
Unfortunately there are no reviews yet, you can be the first.
Related products
Russian Army Uniform Sweater EMR

€ 39.95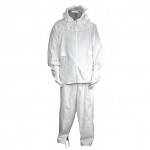 Soviet Snow Camo Winter Suit

€ 24.95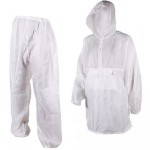 Military White Snow Camo KMZ Suit

€ 19.99