BARS Summer Field Uniform VKBO EMR
Price: €

69.95

Quantity:
Size:

Description
A set of lightweight, summer field uniforms from the BARS company, consisting of a tunic (shirt) and trousers. The costume is made of mixed fabric with the type of weaving of Rip-Stop threads. This field form is perfect for airsoft, as well as for hunting, fishing, trips to nature in the hot season.
The tunic fastens with a zipper hidden by a velcro lapel. There are 2 chest pockets with buttons, 2 pockets on the shoulders and one small inside pocket for valuable items. The cuffs are adjusted with buttons.
Pants have a straight, loose fit; fastened with a button, codpiece (fly) with a zipper. An elastic band is integrated in the waist so that the pants do not fall off if worn without a belt. The areas of the seat and knees are reinforced with additional fabric pads. There are 6 pockets: 2 side welt pockets, 2 rear and 2 large hip pockets.

Features:
Color - Digital Flora EMR;
Production material - ripstop mixed fabric (35% viscose, 65% polyester);
Season - summer, warm off-season;
Include: tunic, pants.
Reviews
Unfortunately there are no reviews yet, you can be the first.
Related products
Official Winter Uniform Flora
€ 74.95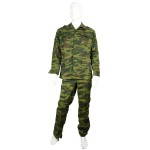 Russian Flora Camo Suit
€ 49.99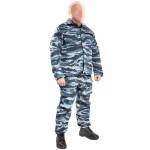 Urban Spetsnaz Suit
€ 64.99