Russian Traditional Soviet Winter Ushanka Fur Hat
Price: €

14.99

Quantity:
Hat size:

Description
Russian Winter Hat Ushanka Fur Hat Black.
Traditional Classic Russian ushanka fur hat made of artificial fur.Ushanka got its name because of the presence of turn-over "ears", in a raised form, connected at the top.
Her ancestor was the Kolchak hat, which was widely used in the White Army of Kolchak in 1918-1919.
Later, the fashion for earflaps with a round crown spreads in the working environment of St. Petersburg, and then throughout Russia.
Today it is not only a part of everyday clothes, but also a
great souvenir.
Metal Soviet army badge will be inclided but not attached.
All sizes available. Great winter gift for everyone.
Reviews
Unfortunately there are no reviews yet, you can be the first.
Related products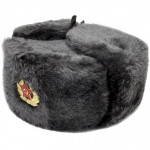 Russian Winter Ushanka Hat

€ 14.99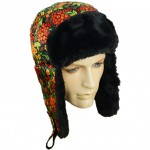 Russian Ushanka Winter Fur Hat Khokhloma Gift

€ 24.99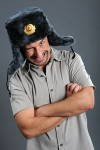 Russian Classic Ushanka Fur Hat

€ 14.99