PFL Military Pilot Aviation Gas Mask
Description
PFL (Protivogaz Filtruushiy Lyotny - flight filter gas mask) - Complete Kit. Designed to protect the respiratory and eyes of crew of helicopters of all types, medical military transport aircraft crews from toxic agents, biological aerosols and radioactive dust.
The kit includes: panoramic mask, hose (which consists of two parts connected with a bayonet-type lock. If necessary, they are detached and the hose connected to the mask may be connected to an oxygen device), cover for the hose, 6 light-sensitive films in a metal box, filter, bag, cloth to clean the glass.
Main Features:
Time of continuous use of the gas mask - 12 hours
Breathing resistance mm of water - 26
The total field of view,%, not less than 68
Weight of the mask (without bags) kg, 1.3
The mask is new, unused surplus. You will receive everything that you see on the pictures.
Reviews
Unfortunately there are no reviews yet, you can be the first.
Related products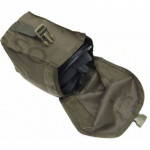 SSO MOLLE Gas Mask Pouch

€ 18.99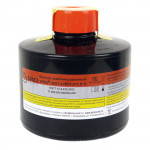 Gas Mask Filter

€ 24.99
Out of Stock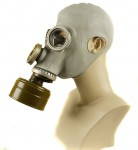 PMG 2 Gas Mask

€ 9.99